Industry observations by Martin Jago, AFA, Founder and Director of Fusion Investing Ltd.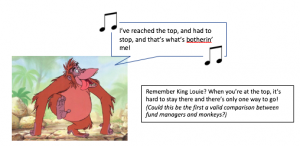 The funds management and investment advisory industry is an exclusive club, and I don't mean their green fees are high. They really are exclusive in the way they operate.  Each manager and adviser wants to be the only choice for investors, and like old Louie, they don't like sharing.  No adviser is going to recommend their competitor looks after half your money alongside them, and only a few KiwiSaver managers allow other managers to help invest your savings.  Therefore, 90% of investors tend to slot into single strategies, with narrow investment approaches.  This creates a hierarchy, or performance table, of advisers, managers and methods, where investors must choose between them and then accept the outcome.  Being the top dog (or monkey) in those rankings tends to attract the most new funds, so every manager and adviser sells a good story.
The problem for New Zealand investors is there's so little long-term proof of performance.  The industry was handed a golden reprieve when PIE tax was introduced.  All the old records could be thrown out and the hit parade started again.  That meant anyone who was sitting on poor returns got a second chance with a clean slate.  Unfortunately though, we're seeing the old problems creep back in.  Let's take the KiwiSaver industry.  We've now had 10 years of performance results but when we compare the players even just five years ago, with today's field, there's some interesting developments.
Five years ago in September, there were 14 managers to choose from in the Growth profile selection.  Whether investors made choices from performance, defaults or loyalty, many have been rewarded with discontinued funds, non-reported funds and taken-over funds, with only 50% continuing today in the same format.  From a persistency viewpoint, these didn't just fall from grace, they fell off the map!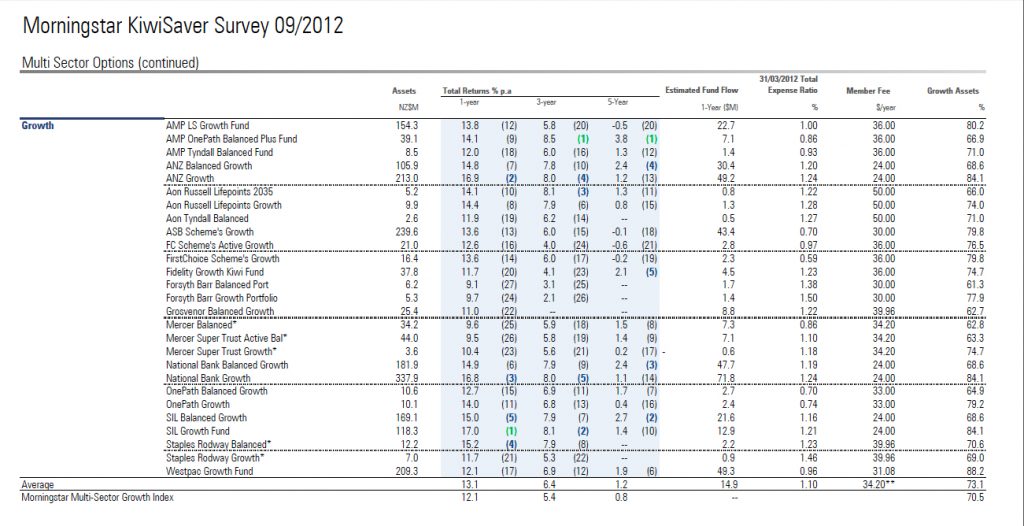 Now let's look at the September 2017 results.  Here we see new managers coming into the field (Generate, Fisher, Booster, Milford, BNZ and Nikko), old ones disappearing and some performance worries for former stars.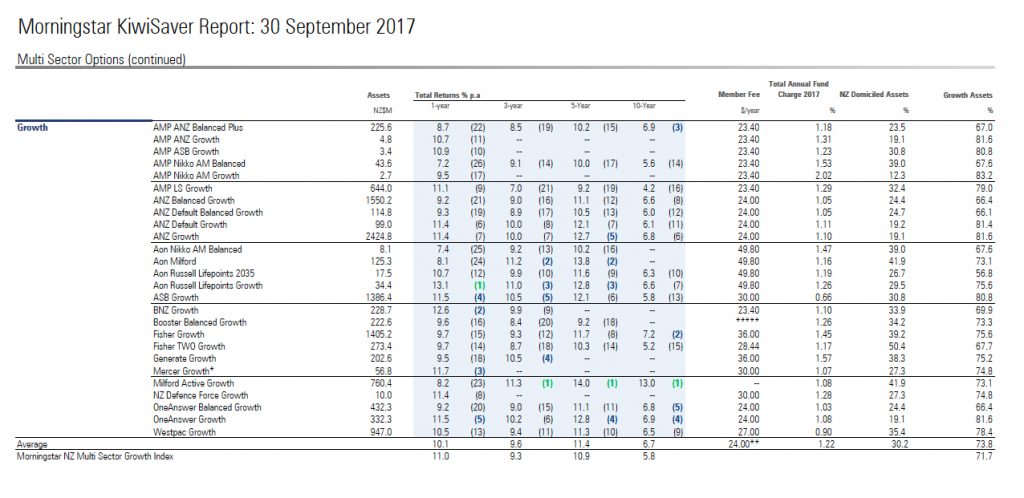 The darling of the last four years, Milford Asset Management, has produced steady, top notch returns.  But this last year, they've dropped to 23 out of 26.  Aon Russell have been steady at the top throughout but BNZ and Mercer, with very credible results, weren't even in the field a couple years back.  ASB's looking good this last year, but you wouldn't have touched them on performance five years ago.
So, investors are left with little solid data to make decisions with, and they can't simply say "they're all the same".  The last five years results have shown massive disparities in returns (4.2% to 13%), so they're definitely not the same.  Is it any wonder so many savers are confused about who to choose?
Lessons to learn
The first thing an investor needs to realise is, no manager can stay at the top forever. There really is only one way to go.   Added to this, fund managers and investment teams are simply collections of individuals, who move around between companies, retire and/or establish new companies, 'stirring up the mud' for investors, making clear indicators difficult to see.  So, choosing a manager or adviser because they've had a good recent run is not an effective way to choose the team looking after your future.  They probably won't be there in five to ten years and the investment approach you bought into, will have 'changed with the guard'.  An academic study in the US in 2010, stated the following:
"Rather than focussing on top ranked funds within each peer group, close attention should be paid to style drifts and other hidden determinants of funds behaviour, not indicated in the self-reported manager style."
In other words, don't make decisions based on recent performance, and don't believe what the marketing blurb says.
The next thing to realise is that managers and investment methods are just tools to help you achieve a good investment outcome. You need a strategy that you're comfortable with.  Then choose the manager or managers to execute it for you.
And finally, stop falling for the "exclusive story". There's nothing to stop you using multiple managers simultaneously, side by side.  There's no reason why you can't have Milford and Fisher together in one portfolio, with ANZ, IOOF and AMP alongside them.  You don't need to rely on one asset allocation, one manager or one hedging policy.  That singular behaviour, is what the industry wants you to do, so they don't have to share your revenue stream.  But imagine the reliability and safety of five great managers together!  For one thing, it means your advisory fees can be reduced and, second, you won't wake up one day and say "why did I choose that manager?  If you use multiple managers, some will do well, others not so well but you'll achieve a good average outcome, and, it probably won't cost any more than using just one. 
You've probably got decades of investing ahead of you.  Your chances of success are increased when you diversify between managers, styles and philosophies, as well as asset types.  Stop chasing returns and start investing in a reliable lifetime strategy.